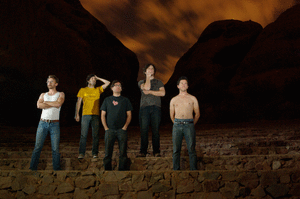 Arizona's Whisperlights formed in mid-2008, a loose collective of songwriters and multi-instrumentalists from bands around the Tempe and Phoenix music scene. Their sound is a combination of full-throated vocal harmonies, ringing distorted guitars and swooning looped violin atop a skeleton of bouncing Rhodes lines and intricately shambling percussion. The band became known early on for their epic and chaotic live show, often featuring multiple instrument exchanges and many broken guitar strings.

In the Fall of 2009 The 'lights headed West toward the smoke plumes of a steadily burning Los Angeles to record an album with the enigmatic Chris Kasych, who, for a bottle of whiskey, agreed to track the band after-hours. After a grueling and sleepless three-night marathon, their seven song debut was born.

Said debut, the Wake Up Dead EP, is a lush and driving set of songs about change, death, and romantic fatalism writ large. Characters strive and toil, or live in blissful ignorance, only to be annihilated. Sleeping sailors are chewed alive. People turn into trees. Things get weird. And yet, for all the warbling macabre, these are pop songs: bright and summer-vacation-catchy. Lucid melodies fold into dense harmony, burn up and emerge again from the feedback.

Following their 2010 EP Wake Up Dead, The Whisperlights present their first full-length effort, Surfaces. The collective have expanded their ranks since the EP, adding horns, banjo and the vocal talents of Maylan Ackerman to their already epic brand of slightly shambolic stadium fuzz-folk. The album is comprised of ten tracks (one of which was recorded in an underground pyramid in a Glendale, AZ backyard) with each band member taking part in songwriting and vocal duties. The title serves as a rough central theme: think the grooves of a record, a highway heat mirage, or the face we turn to the world. The result is a danceable, sun-bleached summer album, dreamy and immediate in equal measure.